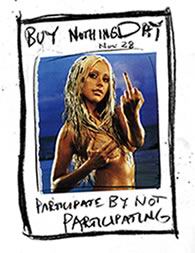 This year,
Buy Nothing Day
covers the 24 busiest hours in the American shopping calender, on 24 and 25 November. I will be participating, only because I buy nothing on at least 300 out of every 365 days of the year. If everything about the nauseating excesses of Christmas consumerism makes you want to hurl, I urge you to join me.
I hardly ever use a credit or debit card. I usually don't even carry cash. I get most of my clothes on sale or at thrift stores, because I would not pay the inflated prices of new clothes even if I had money to burn, which I don't. 'Twas not always thus. Six years ago, before I had kids, I did not look at the price tag on shoes or clothes. I was seduced by the cut of a designer suit, the sheer prettiness of silk underwear, the scent of really expensive perfume. I enveloped myself in a gorgeous sensual world. I spent whatever money I earned, not only on myself, but on others. I like to think I was generous.
Sure, sometimes I do still get a thrill from a brush with luxury. Like last year, when I stayed in the Millenium Hilton in Manhattan with my French friend
Brigitte
. Staying there for the weekend with her did make me happy, for the first few hours, at least. For one thing, Brigitte shelled out for the hotel. For another, we were sharing a room on the 40th floor and one wall of the room was just glass, and the view of Manhattan at night was just so thrilling, it sent cold chills up my spine.
But then, after a few hours, Brigitte started to annoy me. We went out with some friends, and it was obvious she was going to go home with this guy, who, she claimed, looked like Joaquin Phoenix (I couldn't see it myself). But because she didn't feel bold enough to ask him if she could just go back to his place, I had to hang around to see if he was going to ask, which he eventually did, at 3am, when I was ready to collapse from Martini overload. So once she'd gone off with him, I excitedly went back to the hotel room, thrilled that I'd be sleeping in the king size bed on my own, rather than sharing it with her. My joy was short lived however, because she came back at eight am, and proceeded to make lots of noise showering (Why? Shouldn't she have been revelling in Joaquin's scent?). She then got into bed with me and started telling me what a fant-ast-ique lov-eeer this guy was and all about his body. And I'm like, I'm at a luxury hotel without the kids. I want to sleep. I don't particularly find it fascinating that although he is a dermatologist he has flaky skin on his back! Okay?
And then, later that day, I felt a bit like a prostitute. I felt like I had to do whatever Brigitte wanted, just because she was picking up the tab. We ended up haring all over Manhattan to find a certain design of Ralph Lauren shirt for her on-off boyfriend in London, which was very tedious. Then the second night, Brigitte slept at Joaquin's pad, so I had the bed to myself, which was sweet, but didn't compensate for the hours I'd spent in the
Ralph Lauren Mansion
(which I don't recommend by the way, it's peopled by extremely patronizing shop assistants with gelled back hair, who look down their noses at you). In short, the luxury of the weekend did not outweigh the human hassles of dealing with a Ralph Lauren shirt obsessed French nymphomaniac.
I should be pleased I am no longer the victim of marketing, but it is funny to think that nothing material makes me happy any more. It's good to be so free, but at the same time, so lost. Still looking for that thing that will give me contentment. At the moment only booze, sleep, writing fiction and funnily enough, exercising, make me feel upbeat. Which leads me to the question, what non-material things gives you the greatest happiness?